Celebrate Valentines Day with the most romantic form of flight – hot air ballooning!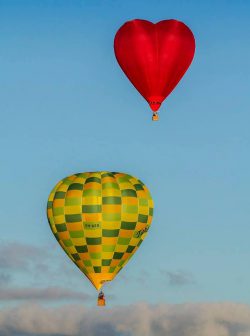 Flights are still available for Sunday 14 February.   It's an early start – meeting at the Hyatt at 05.30 am, but once you up in the air the early start is certainly worth it!
After we land we celebrate with Australian sparkling wine and fruit juice.  (Sorry but the optional Hyatt buffet breakfast is currently not available due to COVID restrictions).
Book now to avoid disappointment or give us a call on 02 6248 8200 if you have any questions.