An exciting magical experience…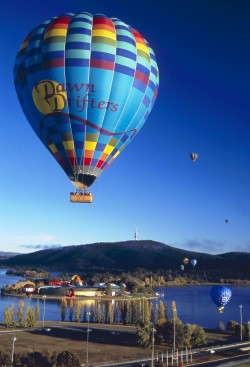 Taking off at Dawn you rise above Canberra's unique city design which slowly unfolds beneath you. Experience the peace and tranquility of lighter than air flight over one of the world's most beautiful cities. We descend gently back down to earth and celebrate your adventure with a glass of bubbly.
Whatever your reason for choosing Canberra's friendliest balloon company, we promise you a personal and efficient service that is second to none.
**COVID-19 update
Passengers should be aware that although we are using larger baskets to allow more Space, it is not possible to provide 1.5 Metres for social distancing.
The FAI Medico-Physiological Commission has recommended that over 70's should pay particular consideration to the risks.