A balloon flight is the perfect gift to celebrate any occasion.
You can order online now and have the voucher instantly emailed to you.
A voucher may also be posted direct to the recipient or you can have the voucher sent to yourself for you to write your own personal message.  Phone us during office hours on 02 6248 8200 for more information.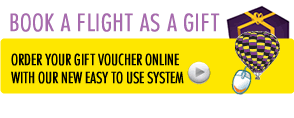 Prices:
FLIGHTS
– Adults $360
– Children $260*
Weekday only flights
(valid Monday to Friday, excluding Public Holidays)
– Adults $310
– Children $220*
*the child price applies to children 6 to 12 years and less than 45kg. We do not fly children under the age of 6.
Sorry – Breakfast currently not avaible!
After COVID19 restrictions ease breakfast will be available at the Hyatt for an additional cost of $40 per person weekdays or $45 per person weekends/public holidays.